Klarifikasi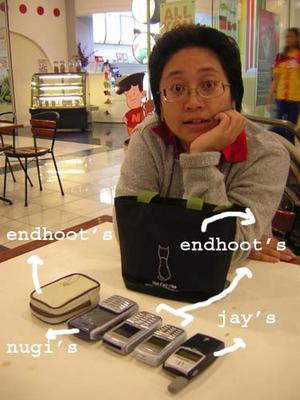 Pedagang henpon mo klarifikasi neh, liat gambar yaks!! Soalnya klarifikasinya ada di gambar itu, gitu!!!
Additional clarification :
- yang paling kiri adalah wadah henpon gw, jadi pada waktu diphoto neh, ntuh kagak ade isinye, soalnye isinye dah keluar semueee....
- jadi sebenernye cume ade 4 henpon, dan semuenye SonEr aka Sony Ericsson, kecuali punye Jay kali ye... nyang belum gabung ame Sony
- there's only FANTASTIC THREE : Nugi, endhoot, and Jay. No additional character at that time.